Butcher eyes home delivery as way of the future
Posted by Edgar Adams on 9 April 2021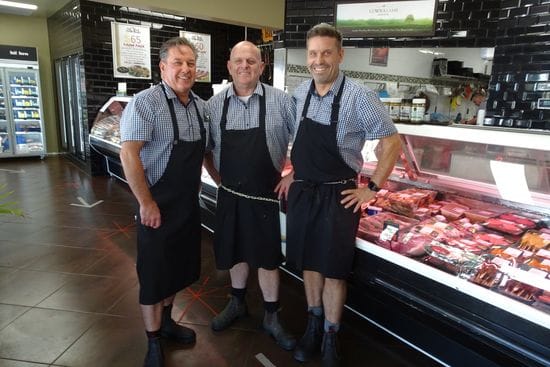 North Avoca entrepreneur Tony Palmer has bought Saratoga Quality Meats at Kincumber.
The business which started life in the Saratoga Shopping Village in the early 80s was originally managed by Rob Kay who bought it around 1985 and set it on the path to become the most successful butchery business on the Central Coast.
Their widespread reputation was such that Coles Property Development Group approached them with an offer to lease a store at the newly renovated Kincumber Village. Within the first week of opening in 2013, Kincumber surpassed Saratoga's turnover and kept climbing.
Eighteen months ago Bruce Kay retired leaving Rob Kay to carry on with long term employee Jason Bowden who has been appointed Manager under the new ownership with Mr Palmer.
Mr Palmer said that he had bought the 'system' established by Rob Kay over more than 30 years.
"This business is about Quality and Value and the system that ensures that it is maintained at every point in the chain from supplier to outstanding product knowledge and service, excellent systems and processes that all staff must adhere to, immaculate store presentation and cleanliness,
unmatched supplier relationships and a reputation as an employer of choice."
"With no advertising or social media presence, their business has been built on word of mouth referral and repeat clientele," he said.
A successful digital marketer, having founded a digital marketing agency that grew to a staff of some 130 people before selling it, Tony Palmer moved to North Avoca in 2007 before taking an interest in Ellis Perry Hair Studio in North Avoca, which he still maintains.