Caine King - Architect
Posted by Phaedra Pym on 9 November 2020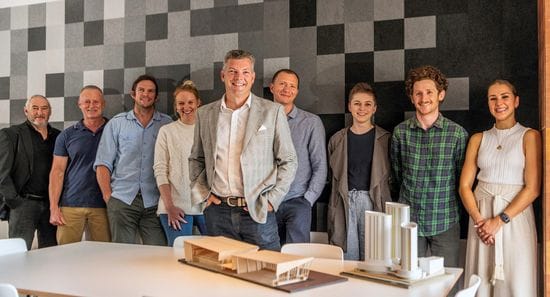 The King family has been on the Central Coast for five generations. As a local business owner with such strong roots on the Coast, Caine King is a passionate and active advocate for our region.
The founding director of CKDS, a multi-award-winning architectural firm based in East Gosford and Newcastle, Caine, business partner Stuart Campbell, and their team have designed and facilitated some of the most iconic and applauded buildings, homes and public structures in both regions.
So how did the journey evolve? And, in his capacity as UDIA Chair since 2017, what does Caine envisage for the future of our region, a region with enormous potential, but struggling under the weight of politics and still learning to find its identity?
Caine opened the doors to C King Design Studio in Rozelle in 2004 and by 2007 with more work lined up than he could handle on his own, Caine contacted Stuart and the pair decided to join forces and rebranded the firm to CKDS.
Their focus over the next five years will be on internal growth, continual improvement and to strengthen the urban fabric and master planning of the Central Coast, working closely with all stakeholders to assist with the implementation and delivery of the regional plan.
Having worked with a business coach for the last twelve months has allowed Caine and Stuart to be more focused and structured in business. Our business coach helped us think about how we can make our business work for us in a flexible way and stay focused on what we love: the regions, while continuing to grow."
As an architect, business owner, long-term local and UDIA Chair, Caine understands the Central Coast and what's needed.
"As a region we need to be very conscious of the quality of design we are left with. Our long-term plan is that we create something as a brand that will stand the test of time so we can see that change through and bring the experience needed to do so. When people use CKDS, they know that we really care about what we design in our backyard."