CENTRAL COAST ECONOMIC REPORT
Posted by Edgar Adams on 14 November 2022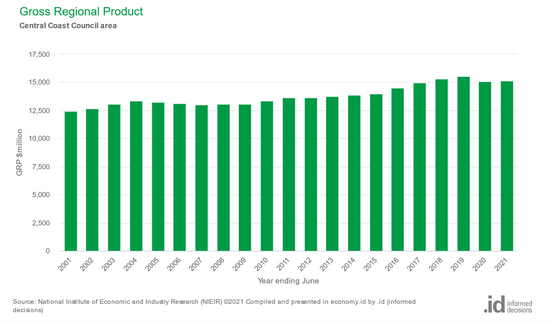 Coast economy in decline
With more data becoming available from the 2021 Census as well as economic data for the Financial Year 2021-22 this is showing a clearer picture of the state of the regional economy.
Gross Regional Product has declined over the past two years after a growth spurt from 2016 to 2019.
It is possible that this could be due to issues around the failure of the Central Coast Council following amalgamation.
However, with millions of dollars of investment capital tied up in delayed Development Approvals (see below) and the region's major economic driver being the building and construction industry the slowdown in growth while other regions are growing should be cause for concern.
Reflecting this decline the number of employed people in the region has also declined from a high in 2019 after annual increases from 2016.
Gross Regional Product
Gross Regional Product is the wealth generated by businesses, organisations and individuals working in the Central Coast.
The past 20 years has seen the region's GRP increase by 21.9% from
$12,426 million to $15,143 million in 2021 (June 30) – around 1% per year.
In the years from 2001 to 2015 growth stagnated while in the following 4 years we saw a growth spurt through to 2019 and since then growth has dropped back to 2018 levels.