Central Coast Investment Prospectus
Posted by Edgar Adams on 13 September 2023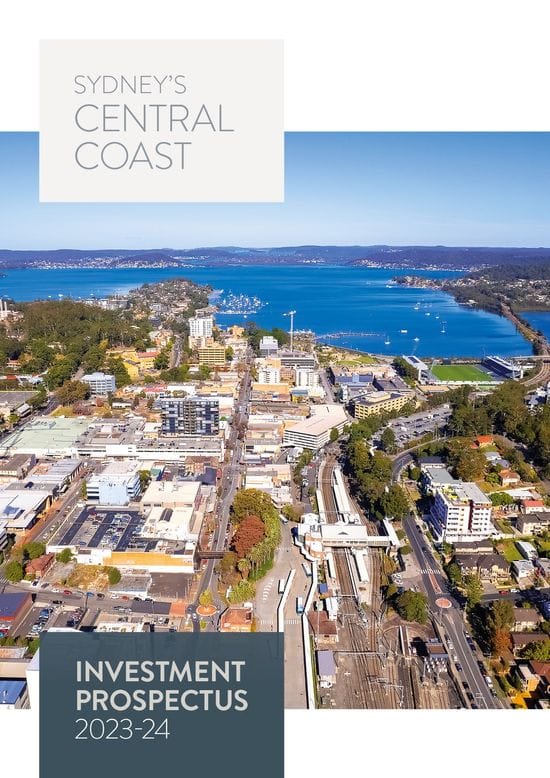 This month we are proud to publish Sydney's Central Coast - 2023-24 Central Coast Investment Prospectus.
An initiative of CCBR, we have been proudly publishing this Prospectus each year for thirty years. It was the first regional investment prospectus published in Australia. It contains only facts that investors and business can rely on and is not a government publication.
This year's Prospectus has been supported by local businesses, most of whom have supported the publication for all of that time, and we thank them for their commitment to our region.
We also thank the NSW Government's Department of Regional Development who has backed the publication and will distribute it to prospective investors.
For all the years since publication both Gosford and Wyong Councils were strong supporters of this Prospectus. This changed with the amalgamation of the two Councils and this year Central Coast Council refused to support this very valuable regional publication, once described by former Mayor of Gosford Tony Sansom OAM as "The Central Coast Bible".
While we do what we can to promote our region and those industries that can generate economic growth Central Coast Council needs to get on board.
On the Central Coast there are two industries that do all the heavy lifting: construction and manufacturing, and for some reason Central Coast Council does all it can to obstruct their growth and therefore hold back the region's economic growth. These are the industries that drive our economy. There are a few others, but construction and manufacturing are the ones that contribute most.
The social issues that this Council is willfully creating get down to a crisis in housing across the board and a lack of opportunity for people looking for local employment.
Again, this month we report on the Council's continuing refusal to approve legitimate development applications for housing. This time on The Peninsula and the ever-increasing cases of refused development applications being taken to the Land and Environment Court. Twenty-four cases in August alone!
This Council leads NSW as the most litigated against council in the state. Legal costs for defending cases in the Land and Environment Court are astronomical and it is the ratepayer who will pay.
There is another point. People in the Planning Department keep bleating about staff shortages as the excuse for ridiculously long time frames to assess development applications. They would have more time if they didn't have to defend the indefensible in Court. Of course, there is another point in this and that is there are activists on council's staff who do not want development at any cost.
Finally, by putting the brakes on all forms of development the rate base is not growing and therefore in the long run we can all look forward to increased rates.
This Council is not being effectively managed. Its as simple as that.
In exactly one year's time we will be getting a newly elected council.
The community needs to start thinking seriously about how this will play out.
It will all depend on who we elect!
Edgar Adams
Editor