Cover story The Protective Group
Posted by Phaedra Pym on 10 October 2019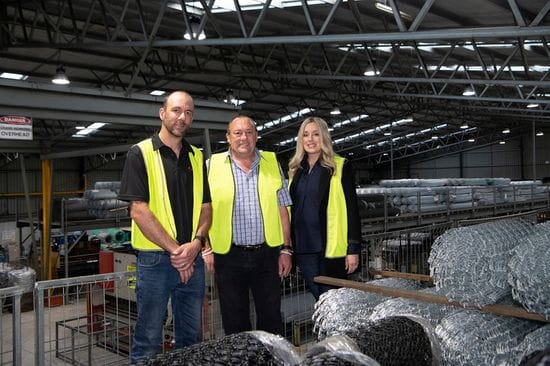 Craig Gibbens, James Gibbens & Samantha Swain
Think of a steel fence surrounding anything from an airport to a new infrastructure project, bridge, farm or railway line and chances are it was manufactured right here on the Central Coast by the Protective Group. As a leading Australian manufacturer and supplier to the fencing and wire mesh markets in the Asia Pacific region, the Group, which today is led by fourth generation Gibbens family members, has thrived over the past 44 years in an industry fraught with challenges, most notably the constant battle to find innovative ways to compete against cheaper imports.
Their success and continual growth are the result of numerous factors, including a strong leadership team, exceptional workplace morale, an unwavering commitment to their customers, diversification, quality Australian made products, end-to-end production and distribution control, and the strategic decision to focus on a niche market that gives them a distinct competitive advantage.
As leaders in the high security fencing industry, the Protective Group has set the benchmark high and is now steering the way forward in the development of new Australian standards that will strengthen our nation's security.
This is a story of family succession and business triumph in Australian manufacturing