Crouch and Harris head-to-head at UDIA Briefing
Posted by Edgar Adams on 6 March 2023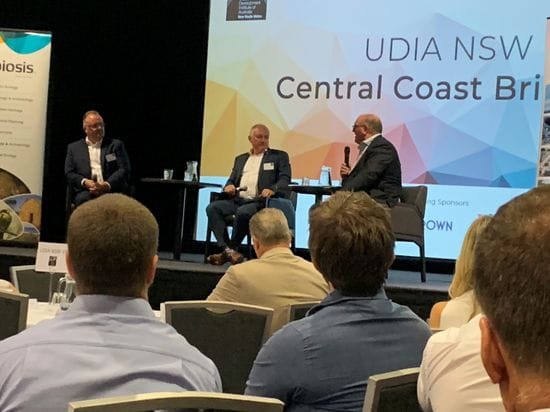 The Coast's future under Labor
Anyone who attended the Urban Development Institute of Australia Central Coast Chapter's February Briefing at Mingara Club in late February with Adam Crouch MP and David Harris MP would have to have come away in the knowledge that a Minns Labor Government would be an excellent outcome for the Central Coast.
Mr Crouch the Member for Terrigal and Parliamentary Secretary for the Central Coast and Mr Harris the Member for Wyong and Shadow Minister for the Central Coast, Aboriginal Affairs and for Jobs, Investment and Tourism were questioned by UDIA NSW Chief Executive Steve Mann on their vision for the future of the region, and importantly, a discussion about the development industry's role in implementing this vision.
Firstly though, It is important to note that for most of the past twelve years under a Liberal Government the Central Coast has received minimal funding while billions have been poured into Western Sydney.
Worse, NSW share of the proceeds from the sale of the Snowy Hydro, $4.2 billion, was earmarked for the investment in the regions across the state including the Central Coast.
In the event the Central Coast's share of the pool of funds event these funds were stolen by the National Party.
Both the Berejiklian and Perrottet Governments have treated the region with total contempt while the Parliamentary Secretary for the Central Coast sat back and watched.
Additionally, over the past eight years this government has created an abominable planning system that has forced up the cost of land, delayed investment and sent investors interstate.
The Government is blind to the present critical shortage of housing across the state, including the Central Coast with a critical housing shortage that will never be addressed under the current complicated and confused planning system.
Labor's Planning Policy to benefit Coast.
It was therefore heartening to hear of what a Minns Labor Government plans to do should it get into office on March 25th.
The Central Coast UDIA Briefing followed a Briefing the week before in Sydney with Planning Minister Anthony Roberts MP and Shadow Planning Minister Paul Roberts MP.
At this briefing Mr Scully said:
"NSW Labor wants to deliver a planning system in NSW which is streamlined, less cluttered by bureaucratic layers, outcomes focused, far more co-operative and much less conflict among stakeholders.
"We will reduce the confusion and complexity of the planning system by bringing the more than a dozen different agencies that currently answer to five different ministers under one Minister."
At the Central Coast Briefing Mr Harris confirmed the points made by Mr Scully and went further:
He said he wanted to see created a Special Activation Precinct (SAP) for the whole Central Coast that would ensure that it is guaranteed funds from the Snowy Hydro Legacy Fund.
He pointed out that in the new Government he would be Minister for the Central Coast, Aboriginal Affairs and for Jobs, Investment and Tourism and as such would be a member of Cabinet.