CSR Hebel opens new $75 million plant at Somersby
Posted by Edgar Adams on 11 November 2019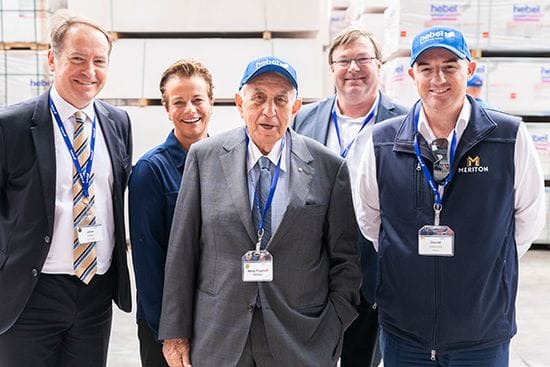 Image: CSR Chairman John Gillam, CSR CEO and Managing Director Julie Coates, Meriton Group Managing Director, Harry Triguboff, CSR Hebel General Manager Andrew Rottinger and David Cremona Meriton Group National Director of Construction at the opening of the Hebel facility
Over 200 people attended the official opening of CSR Hebel's new state of the art Autoclaved Aerated Concrete (AAC) manufacturing facility at Somersby, in early October with CSR Chairman John Gillam saying that it represented a landmark $75 million investment for CSR.
"This will allow Hebel to double it's current capacity and continue to service the growing demand of the Australian housing market for innovative, quality building products such as Hebel," Mr Gillam said.
Planning for Hebel's new plant began over four years ago, and the focus has remained on thelocal economy and minimising the carbon footprint. This has underpinned the decision towork with local suppliers, manufacturers and products sourced in the region where possible.
As a result, much of the $75 million spend has been spent locally in Australia, and once theplant is running at full capacity, 45 new jobs will have been created for the local community on the Central Coast, a point noted by Julie Coates, CSR CEO and Managing Director, inher welcome speech.
The new-state-of-the-art facility borrows the best technology from around the world and combines it with decades of local knowledge and expertise to showcase the best in AAC automation, customisation and environmental waste management.
The 10,000 sqm factory building was constructed by Crossmuller a Division of the locally owned Borg Group.
CSR began production of Hebel in Australia at Somersby almost 30 years ago, and still remains as the only local manufacturer of AAC in Australia and New Zealand.
They employ a total of 140 people.