Early 2020 start for The Archibald Gosford Development
Posted by Edgar Adams on 11 November 2019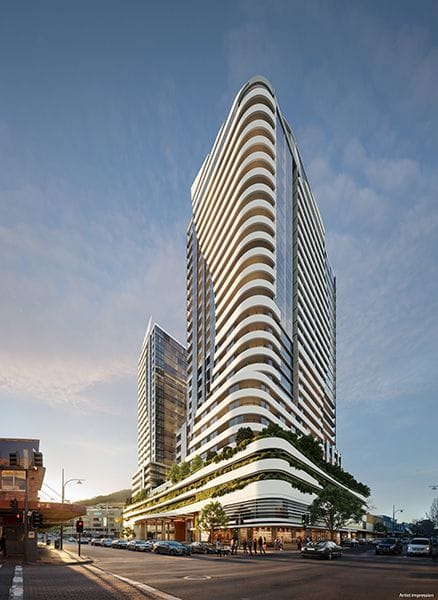 Originally proposed in 2014 the development that will be built on the corner of Mann and Donnison Streets, Gosford is about to become a reality with Sydney developers, the ICC Development Group announcing in mid-October that construction would commence in early 2020.
The $400 million development will have two towers 25 and 26 storeys high and will take around 28 months to complete.
Sydney architect Nigel Dickson, Managing Director of Dickson Rothschild designed the original project in 2014 then known as Mariners Plaza. He continues to be architect on this project.
To be known as The Archibald a key feature of the development will be an exclusive five-star 167 room hotel which will boast a 'world class' roof-top bar and bethe first of its kind on the Central Coast with luxury accommodation expected to match two of the most exclusive hotels in Sydney.
The ICC Development Group, who developed the Sofitel in Darling Harbour, has confirmed it will develop the luxury hotel to match Sydney's Sofitel Darling Harbour and Barangaroo precincts.
As well as the hotel, The Archibald will include 300 apartments plus restaurants and shops.