End of an era as Booth Family retires from motor industry
Posted by Edgar Adams on 11 August 2023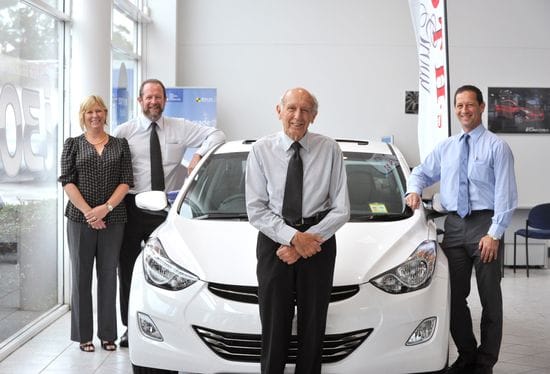 One of the oldest continuing businesses on the Central Coast has sold out with the owners moving into retirement.
Sam Elabbasi, owner of motor dealerships in Goulburn, Taree, Windsor has acquired Booths Motor Group founded in Gosford 83 years ago by Fred and Evelyn Booth.
Originally a small mechanical workshop the business grew to become a larger workshop and petrol station on the corner of Mann and Faunce Street.
Subsequently, their son, Kevin took over and grew the business further by becoming a Rootes Group new car dealer in the 40's and moving into car sales selling the well known Humber and Hillman brands.
Chrysler Corporation took over that brand in 1964 and Kevin and wife Nancey became a Chrysler dealer until Mitsubishi took over Chrysler in 1981. The Booths acquired Peter Robert Hyundai in 2004. This was followed by expansion to Tuggerah with the purchase of Wyong Mitsubishi in 2005. Hyundai was added to the business and then began construction of a number of new showrooms and Service Departments across the Group.
In the 80's Kevin and Nancey Booth's three children, David, Col and Sandie joined the business and created the foundations for growth.
While David, Col and Sandie have managed the Booth Motor Group for many years, father, Kevin remained active although retired. Until the age of 90, prior to Covid, he would be seen around the dealerships welcoming customers and chatting to staff. At the age of 92 years he lives in retirement.
New owners – Central Auto Group
Across the Coast the former Booths Motor Group will trade as: Central Auto Group with franchise names of Central Coast Mitsubishi, Central Coast Hyundai, Tuggerah Mitsubishi, Tuggerah Hyundai and Coast Ford.
Sam Elabbasi, his family and his teams will continue to provide the same sort of family service that Booth's have provided over the past 83 years.
Vale Kevin Booth OAM
Subsequent to CCBR August going to print with the above story Kevin Booth OAM passed away on 26th July. His Obituary will appear in CCBR September.