End of an era as Gosford Furniture Removals & Storage founders retire.
Posted by Edgar Adams on 6 March 2023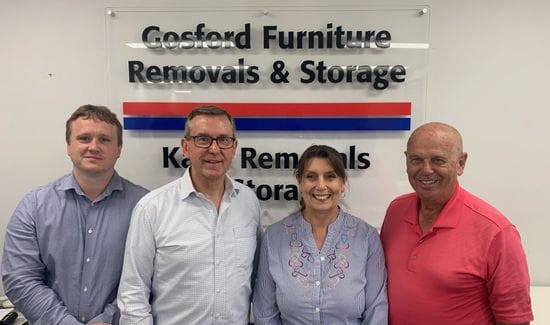 The Central Coast's best known furniture removalist and storage company, Gosford Furniture Removals & Storage has a new owner following the sale of the business to transport and logistics family Steven and Bradley Thacker.
Established by Chris and Karen Coulson forty years ago when they started out in furniture retailing at Tumbi Umbi and ultimately becoming an exclusive removal service under the Karis Removals name Gosford Furniture Removals & Storage, now located at Somersby, has grown to become the region's best known furniture removalists and unique storage service on the Central Coast.
In 2014 having outgrown their Erina Depot, the Coulsons acquired a 7.5-hectare property at Somersby with a 1,050 sqm warehouse plus offices with a capacity to securely store 320 wooden furniture storage containers plus lounges in racks under cover and over 250 standard shipping containers on the extensive hardstand area for long- and short-term storage.
The Somersby move is a classic example of a business that has grown organically thereby keeping their service quality and operating efficiencies under control.
"Our success has been built around service excellence and respect for our employees." says Karen Coulson.