Merindah Tops out
Posted by Edgar Adams on 1 August 2019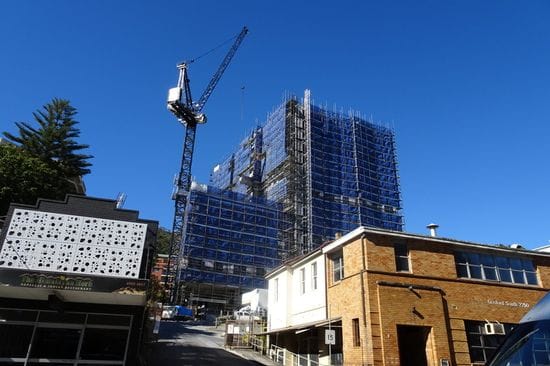 Merindah Apartments the 15 level residential development at 25 Mann Street, Gosford, now under construction, topped out in early July with Joe Bechara Managing Director of builder Pinnacle Construction Group saying he is aiming for completion late 2019 or early 2020.
Merindah is by far the largest development to be built in Gosford representing a substantial investment in the CBD by Pinnacle.
Merindah comprises 134 apartments with 19 x 1 bedrooms, 95 x 2 bedrooms and 20 x 3 bedrooms and three underground car parking levels for 180 cars.
Mr Bechara told CCBR that contracts had exchanged on 120 apartments at prices from $350,000 to $1.2 million.
Merindah is being built by Pinnacle Construction Group an established property development company founded by Joe Bechara in 2010.