MIRAIT Technologies Australia recognised at Osaka awards event
Posted on 3 September 2019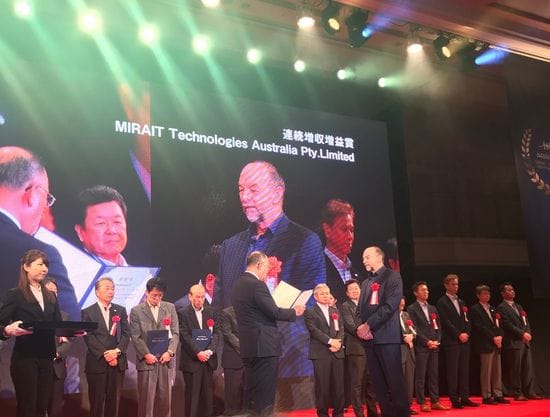 National telecommunications and ICT infrastructure construction and maintenance company, Lisarow based MIRAIT Technologies Australia (MTA) has been recognised for their achievements in the past year at the company's annual awards event in Osaka in June.
MIRAIT Technologies Corporation Japan, company achievement awards are held each year in recognition of significant achievement by all contributors to the company's success throughout the previous year.
Contributors include staff, subsidiary companies, and sub-contractors with staff recognised for length of service and subsidiaries recognised for sales, profit, quality and sub-contractors.
The awards are a significant event for MIRAIT with 300 people at the presentation and over 500 attending the after party.
MIRAIT Technologies Australia were recognised in two categories:
Sales and Profit Year on year growth of both sales and profit over the last 3 years,
Quality Program based achievement for delivery to nbn on the Fusion Program.
MIRAIT Technologies Australia CEO Kerry White travelled to Japan in June to attend the awards night held at the Imperial Hotel Osaka.
MIRAIT Technologies Australia was formed through the acquisition in 2014 of Central Coast owned CCTS Telecommunication Construction by MIRAIT Technologies Corporation, a division of the MIRAIT Group. The company operates from five offices covering the eastern seaboard of Australia, with over 155 employees and an extensive network of sub-contractors.