Opera star adds to opening of Lexus Central Coast showroom
Posted on 1 April 2019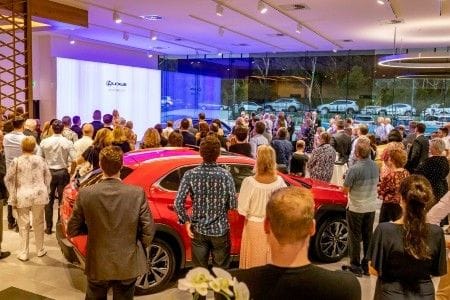 The official opening of Worthington Motor Group's Lexus Central Coast showroom at Kariong in late March was given an added touch of culture with a performance of arias from some of the best known operas by emerging young soprano Camilla Wright who has been working with Coast Opera Australia's Artistic Director Angela Brewer.
All 170 Lexus customers and friends were delighted with her performance making it an unforgettable evening.
Members and supporters of Coast Opera Australia, which is sponsored by Lexus Central Coast, also came along for the evening which Chairwoman Pauline Wright said was the perfect occasion to highlight the work of the Company. "We are quite proud of the work we are doing in providing professional opportunities for the talent on the Central Coast," she said.
The Lexus Australia Management Team led by Chief Executive and Vice President of Toyota Motor Corporation Australia came along to see the first new Lexus showroom layout and design that the company will roll out across Australia which he described as "Omotenashi" which is the art of hospitality before the guest realises. "It is meant to be reflective of the craftsmanship and warmth of the Japanese heritage, culture and hospitality. We are determined to treat our customers as we would to a guest in our own home," he said.
Congratulating the Worthington Family on bringing Lexus to the Central Coast he said, "It is great to see a family run business that truly embraces the Lexus philosophy of treating every customer like a guest in our own home".
Dealer Principal, Brad Worthington said that this was a very proud moment for him and the Worthington Family as he knew that Central Coast prestige car buyers would embrace the Lexus brand. "Our passion for Lexus started with our family's very first luxury car - a Lexus SC400 back in the '90s," he said.
"Lexus Of Central Coast stands proudly at the gateway to the Central Coast looking over Gosford. It is the first thing motorists see as they pass in either direction.
Photos courtesy of Be-One Photography