Record crowds at Harvest Festival
Posted by Edgar Adams on 3 July 2023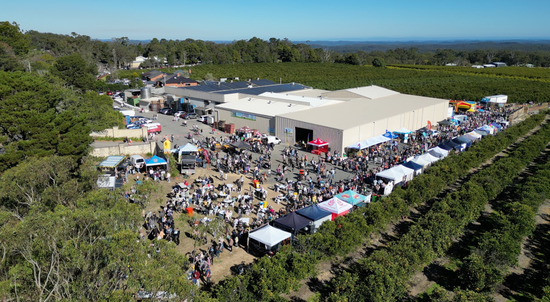 The Central Coast Harvest Festival, held over the June long weekend saw an estimated 56,000 visit the Mangrove Mountain and Plateau area showcasing the region's produce and rural activities as well as entertainment and other activities that included farm tours with 32 participants.
The Lentini Family opened their Kulnura orchard and juice factory which saw some 30,000 visitors on Sunday.
Emily Beatty, Marketing Manager at Eastcoast Beverages said that their traffic control measures were pushed to the limit handling the large number of visitors across their whole operation.
"Our main goals when holding Day on the Farm are to provide education to consumers on our vertically integrated business, bring awareness to our brand, and for people of all ages to have a fun day out while supporting our local community.," she said.
Commenting on the weekend Central Coast Plateau Chamber of Commerce President Lorraine Wilson said that the numbers that were attracted by the Harvest Festival proved the value of agri-tourism in the area west of the M1.
"Until now our area has not previously been seen as a tourist destination. The Harvest Festival supports the original 'harvest trail' concept and is a positive step to creating a year-round farmgate experience," said Mrs Wilson.
"Furthermore, it allows visitors to learn of and enjoy the wide variety of farm produce that this area has to offer.