Robson Partners announces new business name
Posted by Edgar Adams on 11 November 2019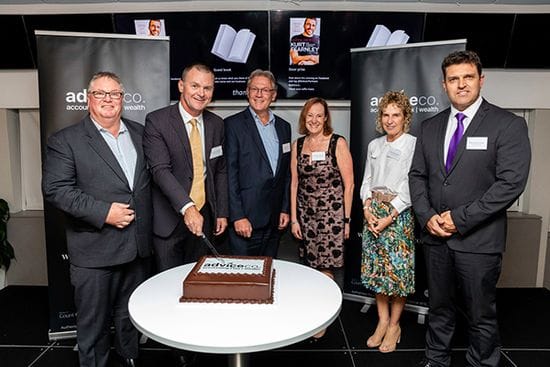 On Wednesday evening 30 October, one of the Central Coast's leading accounting and financial planning firms announced that they have changed their business name from Robson Partners to adviceco.
Directors, David Evers and Troy Marchant shared their context and vision at an exclusive launch event attended by staff, clients and community partners at the Entertainment Grounds in Gosford.
"We've changed our business name to reflect the mindset and values of the whole team and ultimately, the purpose we serve, which is to collectively share our advice with our clients and community to be better off," David Evers said.
The business offering will continue to be accounting, tax and wealth advice. The change of business name is motivated by a desire to maintain relevance in an ever-evolving marketplace.
At the launch event, the business was honoured to have a special guest speaker, Kurt Fearnley to share his personal story and the power of a can-do attitude.
"The rebrand is an evolution, not a revolution. The green arrow in our logo represents an upwards trajectory, signifying targeted goals, client growth and progress. The arrow is also designed to resemble the 'share' icon we so often see on digital platforms and smart phones to reflect our increasing use of technology solutions for clients, and our passion to share that advice," he added.
"The inclusion of the 'co' after the word 'advice' in the business name, is a common abbreviation for the word 'company', but for us it also represents the co-operation of our team, collaboration with our clients, and the community we serve."
The team reflects on its 30 years as Robson Partners with fondness and pride. Together, they have built a strong, united business dedicated to the financial well-being of everyone they serve. They are ambassadors for the Gosford region and are pleased to be located in the city during its rejuvenation.
Visit their new website: www.adviceco.com.au