Sawmill Erina The development sold out
Posted by Edgar Adams on 9 June 2023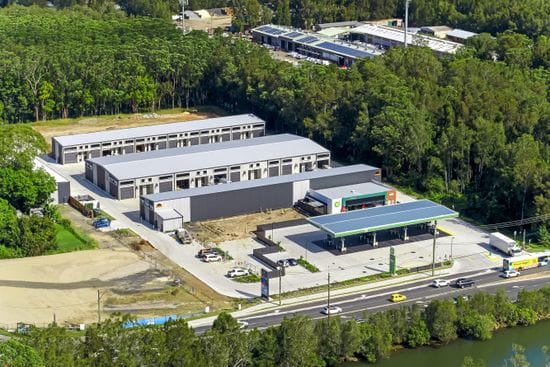 Demand for industrial and commercial units across the Central Coast remains strong evidenced by the success of the recently completed first three stages of The Sawmill development on the corner of Central Coast Highway and Avoca Drive, Erina.
A joint venture between property developer Stevens Group and Miles Property Pty Ltd, owners of The Sawmill site saw sales off the plan for 58 units in the Stage 2 of the development all sold well in advance of completion. Stage 1 being a BP Service Station at the front of the site.
Units ranged in size from 28sqm up to 155sqm selling agent Brett Hunter from DiJones Commercial reporting that units commenced selling at $3,900 per sqm and ended well over $5,000 per sqm.
"Already we have had resales above $6,000 per sqm setting a new benchmark for industrial on the Central Coast," Mr Hunter said.
Buyers ranged from investors to builders, electricians, security and air conditioning businesses as well as gyms and, at the smaller end, lifestyle buyers for personal use.
At the front of the site Stevens Group secured BP for a service station which Stevens Group CEO Brett Harrod said is the only inbound service station between Erina and West Gosford.
The next stage to be built will be a 4-level Self Storage project with 300 storage units with construction to start in September this year.
Meanwhile, Mr Harrod said that Stevens are working on two projects to be located on the corner. The first will be an emergency medical centre that will be operated by a group of local doctors and the second will be a new brewery for Six String Brewery that will comprise brewery and restaurant large enough to include entertainment.
For the joint venture partners getting approvals from Council and Roads and Maritime Services took seven years highlighting the risks developers face when contemplating an investment.