Stagnant economic growth a concern
Posted by Edgar Adams on 7 April 2022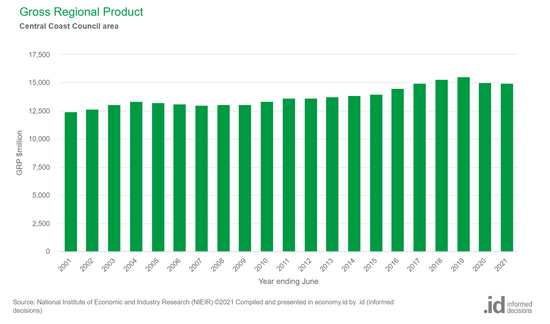 After hitting a high of $15,535 million in 2019 GRP has fallen back to levels last seen in 2017.
However, it should be noted that the region's growth over the past 20 years has stagnated. GRP in 2001 was $112,426 million with year-on-year changes being less than 1% per annum.
This compares with Greater Sydney where year on year growth has been running at around 3.5%.
Economic activity on the Central Coast has stalled since 2019.
This could be attributable to the COVID pandemic however during this time the building and construction sector, which is traditionally an indicator of the region's economy, has been benefiting from strong demand according to comments from local builders and tradespeople.
Likewise, the manufacturing sector has seen strong demand. All are reporting supply chain issues and labour shortages.
A major factor influencing the residential building sector in particular is the inability of Central Coast Council to approve Development Applications within a reasonable time frame. This is reflected in the decline in value of building approvals since 2018.
After a growing annually over the years 2001 to 2019 Local Jobs fell back over 2020 and 2021. This may have been due to the COVID pandemic that has seen a disruption of the employment scene in the region.