UON opens refurbished Food Science Laboratory
Posted by Edgar Adams on 9 April 2020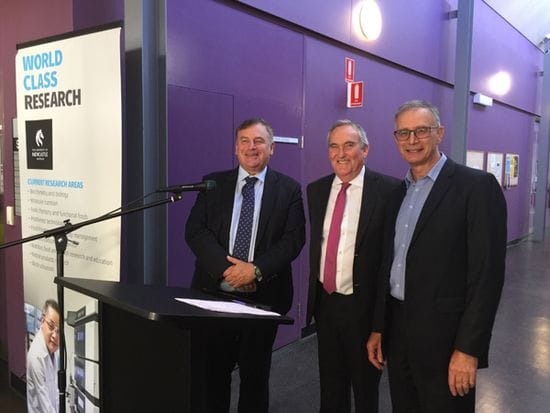 The Central Coast is well along the way to cementing its place as a leading Food Innovation Region with the opening in March of the refurbished Food Science Laboratory at the University of Newcastle's Central Coast Campus Ourimbah.
Refurbished at a cost of $1 million, as part of the UON's $2.6 million teaching space investment in the Campus, the Laboratory was officially opened by Vice-Chancellor, Professor Alex Zelinsky AO along with Faculty of Science Pro Vic-Chancellor Professor Lee Smith and Frank Sammut Executive Officer of Central Coast Industry Connect.
"We see Ourimbah as a Centre of Excellence for Food Science, and an opportunity to strengthen our engagement with industry and community on the Coast," said Prof. Zelinsky. "Food Science is one of four University programs which are only offered here on the Central Coast."
"Presently, there are around 100 undergraduate students studying food science and human nutrition on this campus and I am very proud that over 90% of our Food Science graduates find employment within three months of completing their degrees," he said.
Laboratory opening a Key Milestone for Central Coast Food Innovation Region
Commenting on the significance of the Food Science Laboratory at the Ourimbah Campus, CCIC Executive Officer, Frank Sammut said, "Today is another milestone in the journey of making the Central Coast a Food Innovation Region. Since the inception of this initiative, established by Regional Development Australia Central Coast in 2017, we have made significant progress in bringing this concept to reality for industry."
"A key milestone early in our journey was the signing of a MOU between UON, RDACC and CCIC, recognising that industry, government and the university needed to work closely together to drive the food initiative to gain outcomes of economic growth and jobs for our region."