Warner Business Park hot property
Posted by Edgar Adams on 3 May 2023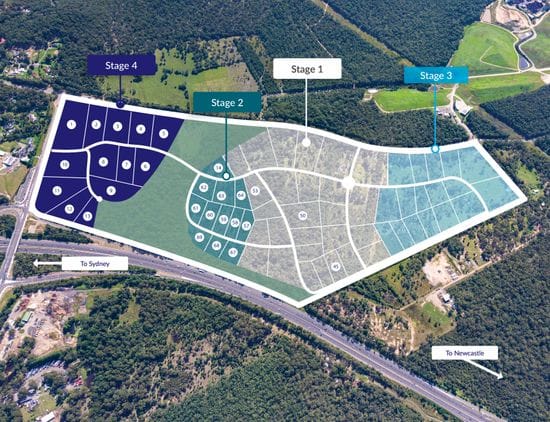 Acquired by Newcastle property developer Winarch Capital in July 2021, Warner Business Park, the 89-hectare industrial block at 671-811 Hue Hue Road and 225 Sparks Road Jilliby is the largest industrial and business development site on the Central Coast, and it has been a sell-out.
Winarch acquired the site with Development Approval for an industrial sub-division to be developed in 4 stages comprising 69 lots.
Sales Agent for the project, Colliers Newcastle's Ben Curran told CCBR that Stage 1 with 25 lots sold out in 24 hours, Stage 2 (12 lots also sold out in 24 hours) and stage 4 (with 13 lots sold in 48hrs)
The entire Stage 3 was sold to a waste management company.
Prices for Stage 1 were at $380 per sqm, Stage 2 $400 to $440 per sqm and for Stage 4 $500 to $525 per sqm.
Since then resales are achieving $550 to $600 per sqm with only a few lots available for sale or lease.
He also commented that the uptake and subsequent re-sales illustrates that demand for industrial land on the Central Coast is rapidly outstripping supply.
"The Central Coast Council has an opportunity to expedite further Industrial land supply along Sparks Rd which will reduce debt, whilst providing 1000's of jobs and large scale investment for the area," he said.