Work starts on Rumbalara project for aspirational buyers
Posted by Edgar Adams on 10 October 2022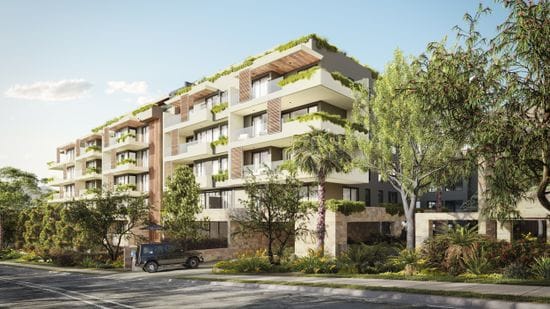 Alceon has broken ground on its luxury residential masterplanned estate on the highest point at Gosford overlooking Brisbane Water.
The developer has partnered with Sydney builder, Deicorp with Marchese Partners designing the plans.
The 2.2ha Central Coast, NSW site will have 188 units with a mix of townhouses and apartments across four buildings at 89 John Whiteway Drive.
Alceon development director Todd Campling said, "we are aiming at the aspirational buyer market. Gosford has the potential to attract this demographic and we are finding that is where our enquiry is coming from. Rumbalara will be a 6-star resort."
Although he did say that they had been surprised by the number of local buyers looking to downsize.
The interest prompted Alceon to bring forward the second stage, which will include construction of apartments as well as the clubhouse and the pool.
There will be 4000sq m of resort-style grounds with a 1000sq m clubhouse. The amenities include an onsite concierge, dining room, wine cellar, private cinema, gym, day spa, tasting room, work from hot desk space, virtual golf simulator, bocce fields, billiards room, pool and forest lounge.
Deicorp is the first builder to get the iCART rating under the new system in NSW.
"The project is being built by and partnered with leading construction expert Deicorp, the first builder in NSW to achieve the coveted iCART rating for trustworthiness under the NSW Building Commission's reforms," Campling said.
Completion of the first stage is expected in 2024.