Australian Reptile Park named NSW best attraction
Posted by Edgar Adams on 2 December 2019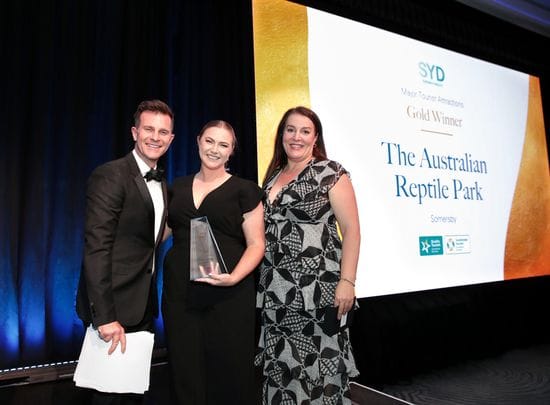 The Australian Reptile Park made history at the 2019 NSW Tourism Awards where they were honoured with the coveted 'Major Tourist Attraction' award.
The Australian Reptile Park is now the first business in history to hold both the NSW Business of the Year and Major Tourist Attraction awards in a 12-month period.
The award was presented in front of 500 guests at a stunning gala dinner at the Four Seasons Hotel Sydney at the most prestigious tourism event of the year for New South Wales.
Its been a big year for the Australian Reptile Park. Earlier this year in August the Park claimed the top award in the category of Major Tourist Attraction at the 2019 Regional Tourism Awards for Destination Sydney Surrounds North.
Commenting on their recent wins, Tim Faulkner, Director of the Australian Reptile Park said "We are so proud to be a privately owned business excelling independently.
"We are currently in our 61st year of operation and can't wait to announce what we have coming up next."