Food conference discusses next generation nutrition and agribusiness
Posted by Edgar Adams on 4 August 2021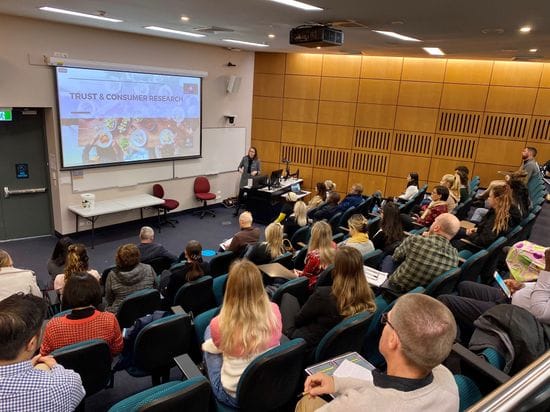 The University of Newcastle's Central Coast Campus was the place for a two-day Food Sustainability Forum where the latest developments in food nutrition and agribusiness were discussed.
Held on the 17th and 18th June participants heard how current research is creating a next generation of sustainable food and nutrition opportunities.
Eight leading keynote speakers in nutrition, food marketing, agribusiness, food science and technology, innovation, food perceptions and preferences, formulation and processing, genetics and agronomy from as far afield as Denmark heard how the food sector's capabilities into the future
will be enhanced through scientific research.
Conference convenor, UON nutrition researcher, Dr Tamara Bucher said that the Central Coast Ourimbah Campus had been chosen as the Central Coast is home to over 50 food companies as well as being the centre of the UON Faculty of Science's internationally recognised centre of
excellence in food innovation and production.
Dr Bucher said, "Due to the diversity of the food industry on the Central Coast and the research facilities at the Ourimbah Campus the region could be labeled the 'Silicon Valley of Food".
The university recently opened its Doctoral Training Centre in Food and Agribusiness at the Campus. Doctoral Training Centres are a part of the Newcastle Institute for Energy and Research (NOER) that provide industry embedded PhD programmes and training to produce outcomes
between the university and industry.