Frogy's gone!
Posted on 1 June 2019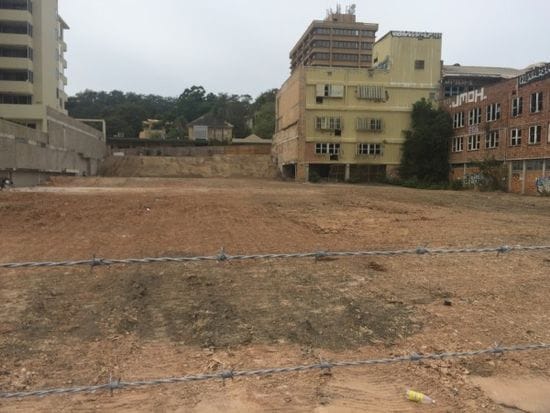 Frogy's, the derelict former roller skating rink on Gosford's Mann Street that has been the subject of derision and embarrassment for the past 15 years has finally been demolished and the site levelled.
Acquired by developer New Hong Kong Macau Pty Ltd in 2014 and a 3-tower development known as Waterside approved by the Joint Regional Planning Panel in early 2015 the project has been in limbo ever since due to difficulties encountered in the demolition of the Frogy's site.
It transpired that the Frogy's building which was formerly a department store had been built over the top of another building that contained asbestos and other issues causing the demolition to take almost two years.
The developer is now working with architects CKDS Architecture to advance a staging strategy for the development of the site with commencement of the first tower planned for early 2020.
The site also included a building on the corner of Baker Street and Georgiana Terrace and that has been demolished also. All that remains is the former county council building on Mann Street which is subject to a heritage listing.