Gosford Erina Chamber launches Music in Gosford project
Posted by Edgar Adams on 5 February 2021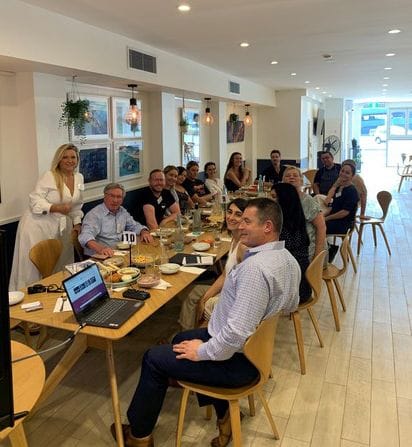 In a move that will see Gosford CBD become a Music City with the branding Gosford Beats, an initiative of the Gosford Erina Business Chamber, the inaugural meeting of Gosford restaurants was held on 22nd January to inform them of the Chamber's plans and to get buy-in from the operators.
The Chamber's plans are to develop a live music culture in the Gosford CBD making it a living and exciting city for a new demographic of residents that are moving in as a wave of residential apartments are built.
More importantly though is that there is now a critical mass of restaurants and coffee shops in the CBD that, as businesses, must be supported and encouraged.
In addition to the local residents Gosford has a large daytime commercial, professional and retail workforce and attracts visitors seeking medical services.
"The idea behind this concept is that all people love and react to music. Music attracts people from all walks of life. Good restaurants always have a musician playing and that keeps the patrons there and spending more money," said Edgar Adams, Director of the Chamber whose idea it has been for some years to bring a new atmosphere into the City which has been held back for almost 50 years.
"It is also a well know fact that the Central Coast is home to many internationally and locally known musicians who we should acknowledge and encourage," he said.
In addition, the Central Coast Conservatorium of Music is a major contributor the Gosford's cultural life and provides an opportunity for Gosford to be talent incubator.
The long term plan is for Gosford to have a continuous music schedule with street music supported by buskers and musicians looking to promote themselves.
This includes monthly music festivals that will make the place thrive on weekends with Kibble Park being the central attraction bringing in visitors who will in turn eat at the many restaurants and coffee shops as well as support the local retail businesses.
The success of this initiative will be in the promotion of participating venues and participating musicians.
Well known media specialists and experts in social media marketing, Erina bases Oddfish Media, have developed a marketing plan that will guarantee that the Gosford Beats message reaches a wide ranging audience.
Oddfish Director and also Director of the Gosford Erina Chamber is Darren Fischer who has put together the marketing plan and developed the Gosford Beats website that will promote the venues and musicians along with
Facebook page along with an Electronic Direct Mail marketing campaigns.
In addition, Southern Cross Austereo who operate Hit 101.3 Central Coast and 2GGO Triple M Central Coast radio stations, long time sponsors of the Chamber are supporting the project as part of their sponsorship.
The Chamber has employed a part time Music Coordinator, Jane Stewart-Kemble, to work on the Gosford Beats project as well as to assist venues engage musicians.
The aim being that over the next six to twelve months, with extensive promotion, the venues will have sufficient patronage to support live music themselves.
As the project proceeds the Chamber will seek sponsorships to support monthly music festivals.