Industree Group secures naming rights for Stadium
Posted by Edgar Adams on 5 December 2022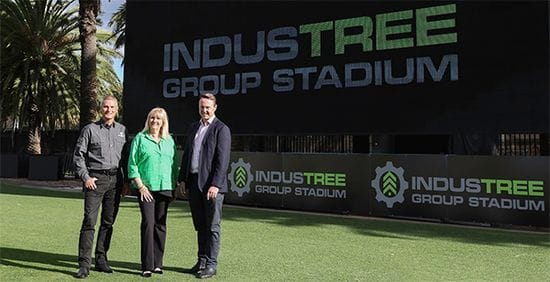 Berkeley Vale based personal protective equipment (PPE) manufacturing and distribution company Industree Group has secured official naming rights partner of Central Coast Stadium on the Gosford Waterfront.
Commenting on the announcement Industree Group owners Jason, Melanie and Jon Stenning said, "To be able to contribute back into the local community where our head office is based and many of our staff and their families live, is a fantastic opportunity and one that we are very passionate about evolving for the benefit of the community."
"As a proud NSW Central Coast-based company operating and distributing successfully at a multi-national level, Industree Group celebrates their fifteenth year of operation this year."
"Securing the naming rights of such an iconic local Central Coast asset now adds another really positive layer to our fifteen-year anniversary celebrations," said Industree Group Co-Founder and Managing Director, Mr Jason Stenning.
Industree Group Stadium Venue Manager Kath Casey said that she is delighted that a local Central Coast company with a multi-national presence has invested significantly into the naming rights partnership.