ING Bank's new Call Centre for Wyong
Posted by Edgar Adams on 10 July 2019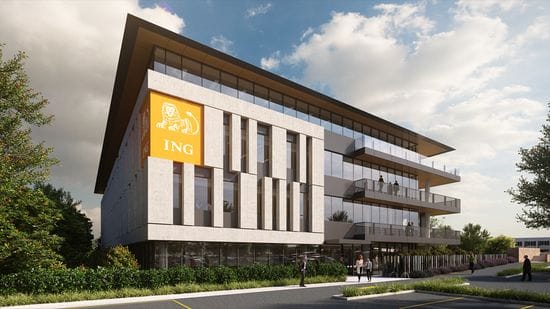 Architectural image of proposed ING call centre building at North Wyong
Central Coast property developer Gibbens Group have lodged a Development Application with Central Coast Council for a 4-storey office building at 4 Dulmison Avenue, Wyong (on the edge of the North Wyong Industrial Estate).
The building, with a construction cost of around $11 million will comprise a total gross floor area of 5,519 sqm on a 12,268 sqm site and will include a ground floor café and outdoor garden / breakout area. Secure external car parking for 300 vehicles is provided for.
It is understood that three levels of the building will be occupied by ING Bank call centre.
ING have operated a call centre in Tuggerah Business Park for about 25 years.