John Singleton announced as Coast FM's patron.
Posted by Edgar Adams on 6 March 2023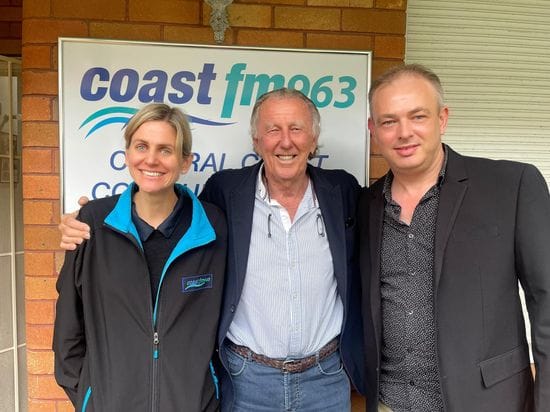 After more than 30 years on the Central Coast's airwaves – community radio station Coast FM has joined forces with John Singleton – with the local powerhouse being honoured as the station's official 'Patron'.
The not-for-profit finalising the partnership with a station tour in late February.
"Since I moved to the Central Coast permanently 25 years ago, I've really tried very hard to become part of the community and to drive the community onto greater ambitions," Mr Singleton said.
"Not, not for us, but you've got to give the kids something to aspire to and the Central Coast for too long has been regarded as a skid row sort of a place.
"We've got the best beaches, the best hinterland and waterway in the world and I believe great young people.
Mr Singleton also commended the work of the station's volunteers during his Gosford trip.
"Coast FM is great; this place is run by 60 volunteers for next to no budget and it's just as good as stations in Sydney - some of which I used to own and had a couple hundred people running around and engineers.
"I love the face everyone here cares about the community and no one is doing it for the big quid, they're all doing it because they want to make this place a little better.
"I like the news. I don't like the news on the other stations - they talk about Afghanistan all the time and Iran and Iraq and I want know if there's a dog attack at Budgewoi and what's happening at Lake Munmorah.
"I listen to Coast FM to find out what's happening in the real world up here."